LIVE Meal Prep Tutorial + Grocery List!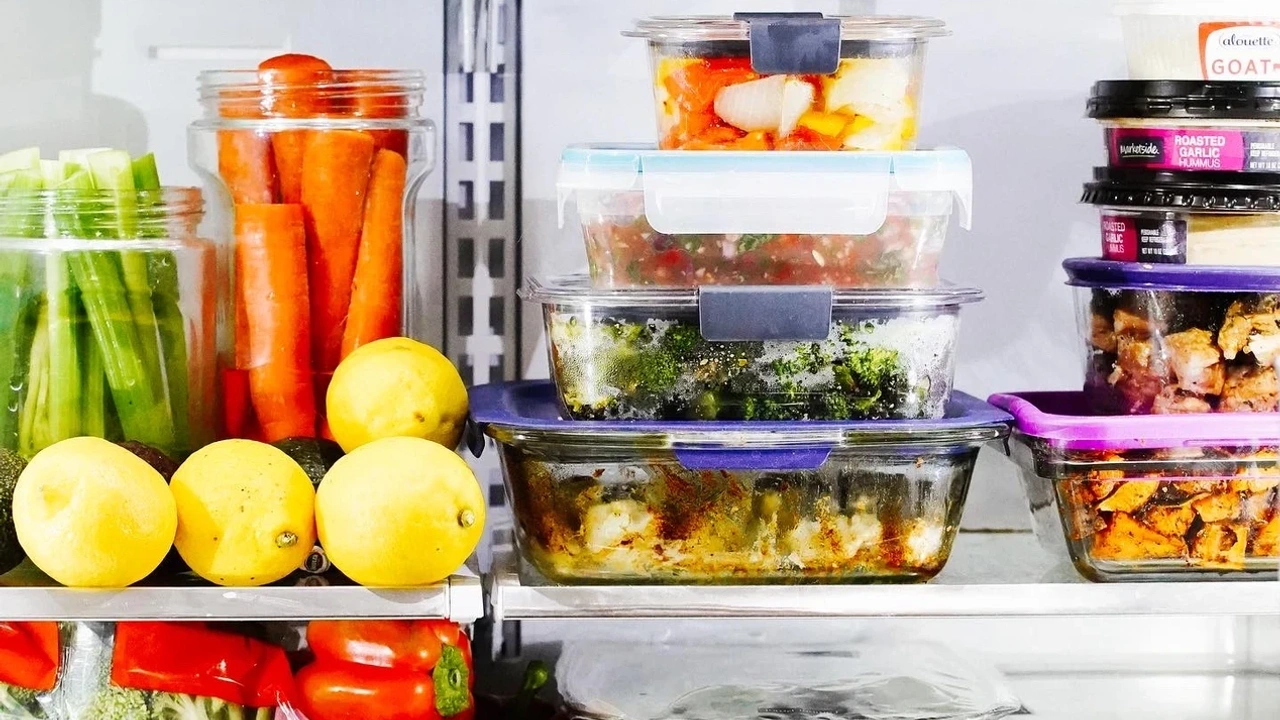 Welcome to my kitchen! I am so excited to meal prep with you this week. Here is a picture of my fridge right now
after preparing some food, and soon to be your fridge too! Below is a video where I prep with you IN REAL TIME. NOTHING IS SPED UP, I show you how I prepare a ton of food in only 30 minutes.
I am all about making large amounts of food and then getting creative on all of the different ways you can create variety with those foods!
Don't believe me? Check out my meal prep guide ;)
Starting off, you will need a grocery list.
Here is mine this week, and everything you need to make these meals is on it!
What we will make:
grilled chicken

salsa verde pulled pork

roasted smoky sweet potato

roasted garlic broccoli

tahini roasted cauliflower

easy tabbouleh
What we can do with it:
greek pork bowl with tabbouleh & hummus

greek chicken bowl with tabbouleh & hummus

roasted veggies & chicken wrap w/ tahini

pork & sweet potato avocado bowl

sweet potato & tabbouleh

bell pepper sandwiches

pork wrap with roasted peppers

chicken and veggies salad with tahini dressing

Breakfasts: Superfood oats -1/3 cup oats + 2 tbsp chia/flax seeds + almond milk. Add nut butter & berries

Smoothies:

Banana Berry Smoothie
READY TO MAKE IT WITH ME?
WHAT TO DO:
PREHEAT OVEN TO 400. DO THE THINGS THAT TAKE LONGEST FIRST:
CUT PORK TENDERLOIN AND LET SEAR ON A SKILLET OVER MEDIUM/HIGH HEAT WITH A LITTLE OIL. Flip after 2-3 min and then add all to a crockpot with salsa verde for 3 hrs on low.

CHOP SWEET POTATOES INTO LIKE SIZED PIECES. Season with oil, salt, pepper, smoked paprika, oregano, and garlic. Add to sheet pan and put into oven. (Check the time! These cook for about 30-35 minutes)

ADD BROCCOLI FLORETS TO SHEET PAN, AND CHOP PEPPERS INTO BIG CHUNKS AND ADD THEM TO A SHEET PAN. Season with salt, pepper, oregano, garlic powder, and add nutritional yeast to the broccoli. This cooks 20-25 minutes.

CHOP CHICKEN TENDERLOINS AND ADD TO A SKILLET OVER MEDIUM HEAT with oil, juice of 1/2 lemon, and minced garlic. season with salt, pepper, and oregano.

CHOP CAULIFLOWER FLORETS AND ADD TO A PYREX. drizzle with tahini (don't be shy), juice of 1/2 lemon, garlic powder, Nutritional yeast, salt, and pepper. put in oven for 25-30 min.

Drop heat of chicken to low and cover. add cherry tomatoes, juice of 1 lemon, mint, parsley, white onion, and salt and pepper to a food processor and blend until your desired chunkiness.
YOU ARE DONE!!! just take everything out at the correct times and add to sheetpans! Your kitchen will probably look like this when you are done ;)
Hope you enjoyed following along, stay tuned for some better camera angles and more content in the APP ;) (coming soon to a phone near you!)
Happy Meal Prepping!