Raw Snickers Bars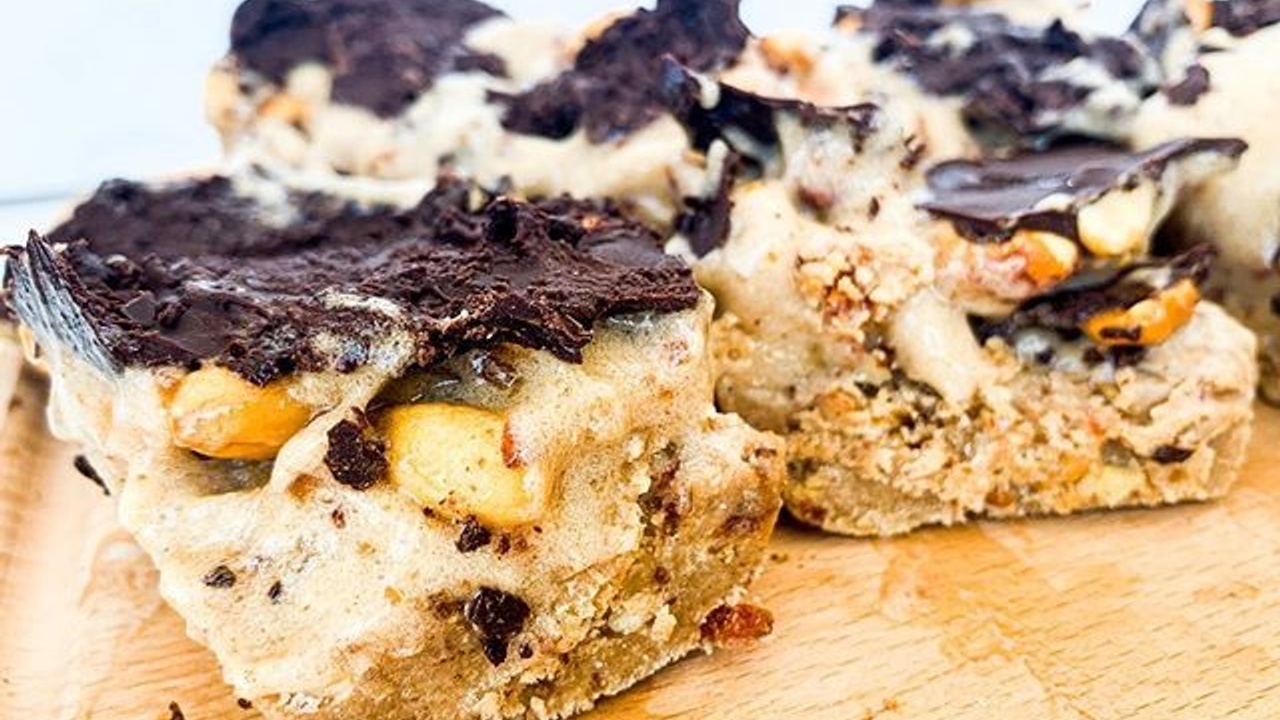 One thing I have learned through this quarantine: I do not like to bake.
My favorite thing about cooking is the art of it- you just can be so intuitive. You don't really have to measure things, you can add a dash, a pinch, or a sprinkle and you can generally get away with it.
BUT BAKING IS ANOTHER ANIMAL.
Baking is precise, it needs you to measure every ounce of what you are adding and it slaps you in the face when you don't. Baking is a chemistry project.
You can see the dilemma coming: so how do you have treats?
Introducing: no bake RAW SNICKERS BARS.
There are a few steps to this, because you have to wait for the first layer to freeze before adding the next one, but let's be real: what better do you have to do? Don't learn a new tiktok dance, make this instead.
(or do both)
Made with bananas, dates, nut butters, chopped peanuts, and dark chocolate.
YOU CAN DO THIS!
ingredients:
Nougat Layer:
1/2 cup coconut flour

1/2 cup nut butter of choice

1/2 cup pitted medjool dates

2 tbsp maple syrup

2 tbsp coconut oil
Banana Caramel Layer:
1/2 cup pitted medjool dates

2 frozen, chopped bananas

1 tbsp maple syrup

chopped peanuts
Chocolate Layer:
2 full dark chocolate bars, melted

sea salt to top
instructions:
1. First remove frozen bananas from the freezer (they should thaw for about 3-4 minutes)
In a food processor, add all ingredients for the nougat layer. Process until a dough forms and press into a loaf pan or 8x8 pan. Put in freezer.
2. In the food processor, add frozen bananas, dates, and maple syrup. Process until smooth, ice cream texture forms. Take pan from the freezer and pour banana caramel layer on top. Sprinkle chopped peanuts on top. Smooth and let freeze 3 hours.
3. Microwave or heat dark chocolate until fully melted. Drizzle over frozen banana mixture, smooth and sprinkle with a small pinch of sea salt.
Freeze 3-4 hours.
ENJOY!