Meal Prep Week #2
For all of you who completed meal prep week 1 with me, well done good and faithful servants! I hope it made you think that this just might be doable and sustainable.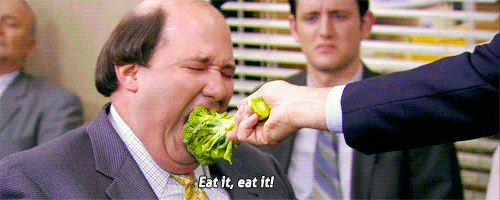 This week we are adding in a HABIT.
You may notice there are 5 lemons on the list.. so we are starting our day with lemon water before eating anything! Lemon water in the morning is great for digestion, aids in detoxification, boosts immunity, and can help balance pH in the body. It is worth a try.
Without further ado, LET'S GO ROUND 2!
---
your menu this week:
mains:
Chicken apple sausage with roasted veggies and guac

dijon salmon with quinoa, roasted veggies, almonds

chipotle bowl over greens
breakfast:
veggie omelette with fruit/ avocado
---
grocery list:
Produce:
spring mix/kale/salad mix (16 oz container)

tri-colored bell peppers (3)

Sweet potato (3)

broccoli (2 crowns)

RIPE (soft to the squeeze) avocado (5)

carrots (1 lb bag)

cherry tomatoes (1 container)

large yellow onion (2)

minced garlic

fresh parsley (1 bunch)

lemon (5)

lime (2)

pico de gallo (1 container)

apple (2-3)

fruit of choice to go with omelette!
Protein:
Free range chicken (1 lb)

Wild caught salmon (1 lb)

Eggs (12)

Aidelle's Chicken Apple Sausage
Other:
organic salsa

honey mustard

quinoa

bone broth

almonds
GRAND TOTAL: $82.43
---
To start, preheat the oven to 400 degrees.

Chop ALL VEGGIES in like size cubes (including halving avocados).
This will be the most time consuming part, so get this done and then we are smooth sailing!
CAST IRON
you will need: eggs, chicken sausage, 1/4 chopped sweet potato, 1/4 container cherry tomatoes, 1/4 cup onion, 1/4 cup chopped pepper, 1 tbsp minced garlic.
1. Take 1/4 cup sweet potatoes, 1/4 cup onion, 1/4 cup peppers, and 1/4 cup broccoli and set aside. Over high heat, brown all 4 links of chicken sausage (no need to chop!) for 2-3 min each side. Set sausage aside and let cool.
2. Add all the chopped veggies. Crack all 12 eggs on top. Chop sausage into chunks and add in half and stir it all in. 3. Bake for 30 to 40 minutes until the edges of the egg begin to brown and the casserole is firm throughout. Check with about 5 minutes to go to see if you need to add any time. Let cool.
SHEETPAN #1
you will need: the rest of the sweet potatoes, carrots, onion, broccoli, red and orange pepper, oil, garlic powder, oregano, salt, pepper.
1. Chop sweet potato and carrot into like sized pieces and place in bowl. Chop onion, broccoli, peppers, and cherry tomatoes (no need to chop these) and place in second bowl.*
2. Drizzle both bowls with olive oil, (1-2 tbsp), salt, pepper, garlic powder, oregano and combine fully.
3. Grease two baking sheets, and place bowl of seasoned veggies on each.
4. Bake for 15 minutes, remove onion, pepper, and broccoli sheet, and bake starchy vegetables for 10-15 more minutes or until tender with a fork.
SHEETPAN #2
you will need: salmon, parsley, dijon/honey mustard, lemon, oil, minced garlic, salt and pepper.​
1. Cut the salmon in half and place on a greased or parchment lined baking tray.
2. Chop parsley as fine as you can and add 1/4 cup to a bowl. Add 1/4 cup dijon /honey mustard, 1/2 juiced lemon, 1 tbsp olive oil, 2 tbsp minced garlic, and salt and pepper to a bowl. Mix together and generously coat the top of the salmon.
3. Bake the salmon for 20 minutes or until it flakes when pierced with a fork. Let cool and set aside.
POT ON STOVE
you will need: quinoa and bone broth.
1. Add 1 cup of quinoa and 2 cups of bone broth to a pot.
2. Bring to a boil, then reduce heat to bring it down to a simmer; cover for 15–20 minutes. Don't lift the lid!
3. Remove from heat when' all water has absorbed and fluff with a fork, set aside.
CROCKPOT
you will need: chicken, corn, beans, salsa.
1. Dump all ingredients into the crockpot. Cook for 3 hours on high or 6 hrs on low, shred chicken and keep in fridge.
ASSEMBLE:
1. Take avocados and scoop out insides with a spoon, add to large bowl. mash with a fork until desired smoothness. Add 1/2 container pico de gallo, juice 1/2 lime, 1/2 tbsp salt, pepper, garlic powder, red pepper flakes if you want it spicy.
2. Remove quinoa from stove. Add 1/2 cup quinoa to 8 containers. Chop all avocados in half and remove pit.
3. For the salmon bowls, add 1/2 salmon fillet, 1/2 cup roasted veggies, 1 cup greens, and 1/4 cup almonds to two containers.
4. For the chicken apple sausage bowls, add 1-2 cup greens, 1/2 cup roasted sweet pot/carrot, 1/2 avocado and 1 link chicken apple sausage to two containers.
5. For the chipotle bowls, Add 1-2 cups greens, 1/2 cup roasted broc/pepper/onion, 1/2 avocado, 1/2 cup shredded chicken/ bean mixture to 2-3 containers.
6. Cut omelet into six and place into tupperware. Enjoy in the morning with 1 cup of fruit, avocado, or apple!
Snacks: Fruit and almonds, guac and peppers.